Nowadays with the cost of energy getting higher and higher, people are looking for ways to cut their energy consumption and reduce their monthly power bills. One way we are trying to lower that dreaded power bill is by using a programmable thermostat for our heating and cooling. We already had a 5-day plus 2-day programmable thermostat that allowed you to set a schedule for Monday through Friday and another schedule for Saturday and Sunday. It allowed us to set four times: wake up, leave, return, and bedtime. Although those are great options, we still wanted something with a little more adjustability.
While browsing the aisles at Lowe's (which is VERY typical of us), we noticed this cool looking gadget featured on one of their displays. We just HAD to check it out! We soon realized that it was "The Nest Learning Thermostat" that we had watched a segment about on DIY's "I Want That!" show. One of the many really neat things about the Nest that sets it apart from other thermostats is that not only is it completely programmable, but it will actually learn your schedule and program itself! One thing was for sure, it definitely has all the bells and whistles to make the Nest a high-tech thermostat. The stainless ring and sleek glass front with a bright digital display also adds to the "coolness factor" and was a plus when we were deciding to actually buy and bring home the Nest or just keep randomly visiting it at Lowe's (haha!).

WHY WE BOUGHT THE NEST
We took some time to think about making the $249 purchase, researched all the details, read a bunch of reviews, and even asked some friends who owned a Nest if they would recommend it to others (FYI: They LOVED theirs!). After a few weeks of additional research (we try our best to be non-impulsive buyers!), we finally came to the conclusion the Nest could help us save a little moolah by lowering our monthly power bill and would eventually pay for itself… so we took (another) trip to Lowe's, made the purchase, and brought our new little Nest home with us!
WHAT WE HAVE LEARNED AFTER PURCHASING THE NEST
After you use the Nest for a week, it will learn the temperature settings that you use throughout the day and create a custom schedule for your home. You can easily modify the suggested schedule at any time or if you make the same adjustment two days in a row, it will remember that and update it to your daily schedule. The Nest is one smart cookie! It also has sensors that can detect when no one is home, resulting in a change to away mode, which cuts back on how much your air/heat runs, if any at all. Another amazing feature is the built Wi-Fi capabilities. This allows you to control the Nest from a computer, tablet, or even your cell phone. It's as easy as downloading and installing an app (available for both Android phones and the iPhone) and logging into your Nest account. This has definitely came in handy when are already in bed for the night and we decide we are hot or cold and don't feel like getting up. No more debating on who gets up to change the thermostat, one of us just grabs our cell phone from our nightstand, opens the app, clicks the temperature we want it to be, and doze off to sleep. Saving energy, money, AND time… we just LOVE our Nest!
COMPATIBILITY
Before purchasing the Nest, we had to figure out if it was compatible with our home and current thermostat wiring. There are two Nest available the first generation and second generation both of them are compatible with different types of heating and cooling systems. To figure this out we went to the Nest website and turns out the second generation Nest was the one compatible with our heating and cooling system.

INSTALLATION
We thought installing the Nest may be a little difficult with all those different colored wires, but the folks who created the Nest seriously thought of everything. The included manual has step-by-step instructions that walk you through the ENTIRE process. They even give you peel and stick labels for each wire as you disassemble them. The Nest comes with a handy dandy white screwdriver (that fits perfectly in the palm of your hand) and was the only tool we needed for our install. (Allison loves that little screwdriver and it is now her new favorite tool!) We love how the Nest covered all of the details like the level built into the mounting bracket that helps you hang the Nest nice and straight. We did have to do a little paint touch up as the Nest was a bit smaller than our previous thermostat but that was no big deal sine we still had some extra paint in the same color left over. It's always good to have a little extra paint on hand!
We won't go into step by step instructions, but if you feel like tackling the install yourself, you can check out this helpful DIY video from the Nest.
If you would rather have your Nest installed by a professional there is a link on their website that will help you find certified Nest installers in your area.
Want to purchase a Nest? Amazon always has some great deal! Click here to see the most recent pricing on the 2nd Generation Nest. (Or here for the 1st Generation Nest)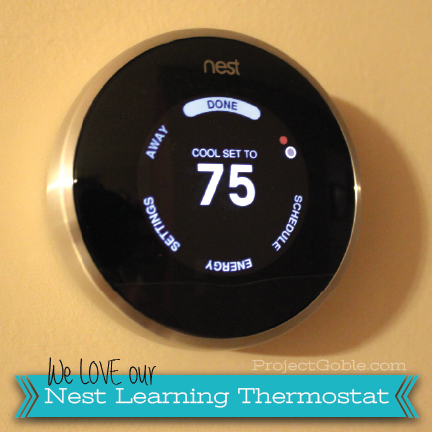 SO FAR…
We are more than happy with our Nest purchase and install. The Nest also sends a monthly energy report to your email to see how much you are using your heat/AC and even compares your usage details to others using the Nest in your area. Make sure to check back for a future post where we go over our monthly reports and power bills to see just how much dough the Nest is saving us.