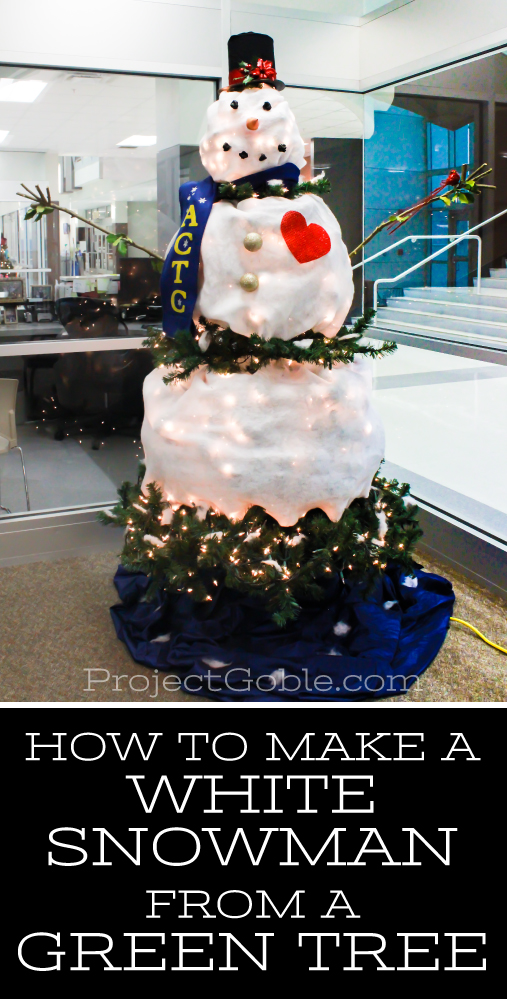 Want to learn to make a snowman Christmas tree? Wait no longer! We will show you how!
The college I work for is currently hosting a Christmas tree contest for faculty, staff, and students that encourage them to all work together AND in return not only will we have fun, but the decorated trees will help beautify our campuses during the holiday seasons. The winning team will receive bragging rights for a year, refreshments for their team members, and will have their tree recreated next year in a prime location on campus. Regardless of prizes or bragging rights, when it comes to a contest, I'm all in! AND in it.. to WIN it!
We formed a team right away! Our team consists of a few staff members from our Admissions and Recruitment office and included a couple student workers. We are all pretty crafty people. Somehow I was unknowingly volunteered as the team leader (*thanks girls*), so I brainstormed some to think of something that would be fun and original. The next day I mentioned my idea of a shaping our green Christmas tree into three round sections and using something white to make it look like a snowman… but not just ANY snowman, a snowman that would represent our college utilizing our school colors! Pretty sure they thought I was crazy at first (well, they KNOW I'm crazy – haha!), but everyone was on board and somehow we were going to make this idea work…. and we DID!
Check.. it… out!
Working together.. to make our tree better.. one snowman layer at a time!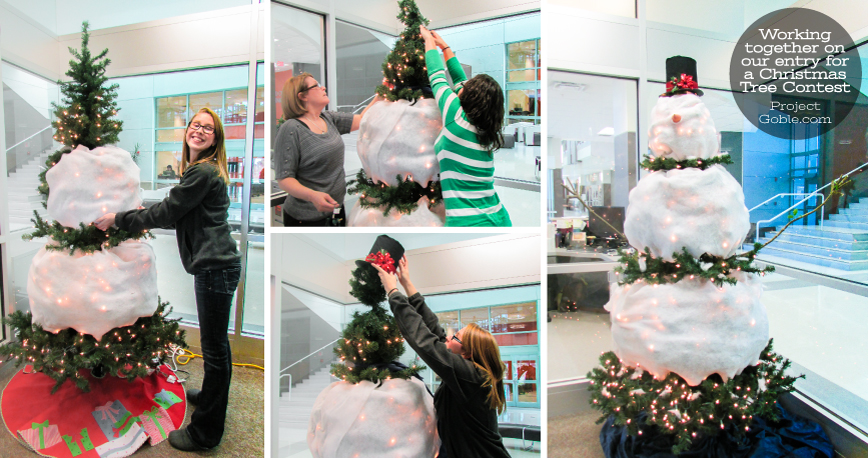 The finished tree! Don't ya LOVE it? We do!
As for the rules, college funds can not be used to purchase any supplies, and we are encouraged to not use anything valuable or irreplaceable in case someone just happens to wonder off with something.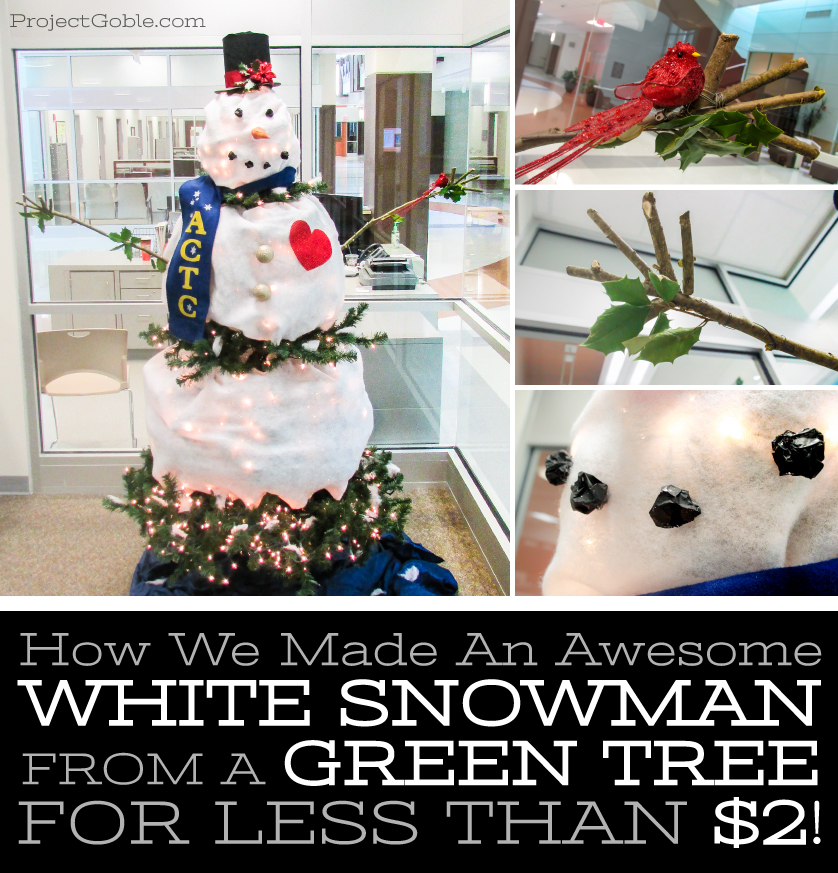 Between three of us staff members, we managed to have 95% of all the supplies we used for our snowman Christmas tree in our craft rooms at our homes, or created what we needed from FREE stuff (like the coffee can hat, and the holly branches used as arms). We seriously only spent like $1.49 on this tree! And that is ONLY because after putting it all together, someone mentioned it would be super cute to have a little red bird sitting on the snowman arms, so we just had to make that happen! *Although we did refrain from putting a pipe in his mouth, as we are a tobacco free campus!!*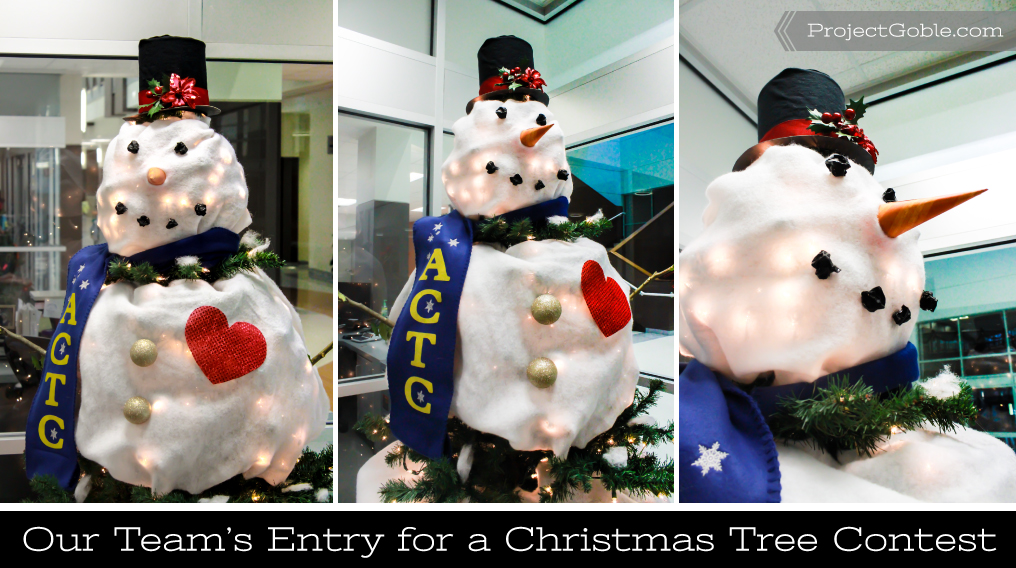 As for what we used and how we created our white snowman from a green tree, let's start at the top… and work our way down
WHITE SNOWMAN BODY = made out of leftover quilt batting that a couple of us had (I actually had quite a bit leftover from a DIY headboard project for our guest bedroom that I hope to share on here soon!) If you don't have any quilt batting, this is what you need to buy: QUILT BATTING
HAT = empty coffee can covered in black felt with a paper plate rim (painted black) that contains a cute red ribbon (leftover from some holiday product packaging) and some tiny berries and a red sequin hair clip
EYES & MOUTH = crumbled up aluminum foil painted black and glued on
NOSE = orange scrapbook paper rolled up like a cone (super simple!)
SCARF = this was a giveaway freebie that contained a local organizations logo… One of our staff members simply folded the scarf so you couldn't see the embroidered logo and tacked it so it would stay like that. She then used her awesome silhouette machine and crafty talents to cutout letters for our college's abbreviation (and snowflakes) then used iron-on transfer adhesive to attach those to the scarf. Blue and gold are our college's colors.
HEART = simply cut out from leftover red sequin material
ARMS = created from holly branches and holly leaves… complete with smaller branches to create fingers!
BUTTONS = gold Christmas ornaments
SNOW = chunks of the leftover quilt batting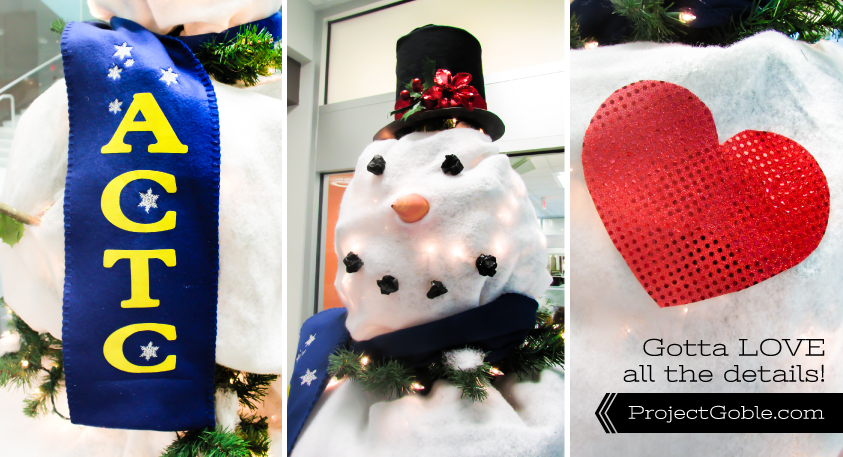 The judging will take place on Friday, so we should know something soon! Although we would love to win, our welding department did create a pretty awesome tree that we are all in love with as well!
LOVE our White Snowman from a Green Tree? Make sure to pin it on Pinterest to save it and share it with others!